Industry-Leading Provider of First Aid Kits for More than 55 Years
For more than 55 years, we have been bringing first aid and safety products to the workplace. Our commitment is to provide quality products, prompt service, friendly and knowledgeable customer service. We will continue to innovate new products, update current products, and listen to your ideas.
Certified Safety is WORLD WIDE with distributors in many countries as well as in every major city in America – thanks to you, our customers.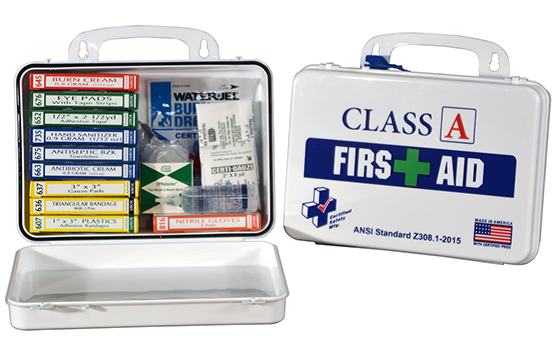 The variety of quality items we produce has made us the #1 growing manufacturer in our industry. All of our products, where applicable, meet and/or exceed the guidelines set by OSHA and ANSI (American National Standard Institute) standards as outlined in Section Z-308.1-2009 and Federal Specification GG-K391(a). Since Certified Safety is a MANUFACTURER and not a "kit re-packager," we are regulated by the FDA (Food and Drug Administration) to meet and follow the rules set forth by cGMP (current Good Manufacturing Practices).
Beyond meeting and exceeding standards, we continually research new ways to innovate and manufacture better quality products. Our patented CPRotector®, the "Mouth-to-Mouth Barrier", is second to none. Our Emergency Transport Blanket, Fire Blanket, and the ANSI-Plus package are just a few of our newest products. CSM can customize for you and/or your customers and provide every first aid kit variety you can imagine. We pride ourselves with American-made products and being a "one-stop shop."
We welcome you to tour our manufacturing facilities so you can see how we provide customer satisfaction. We are confident that, after seeing our 125,000 sq. ft. plant, you will be pleased you are our customer.
Thanks to you,
Pam Gerson – President